15 People Who Are Seriously Regretting Shopping Online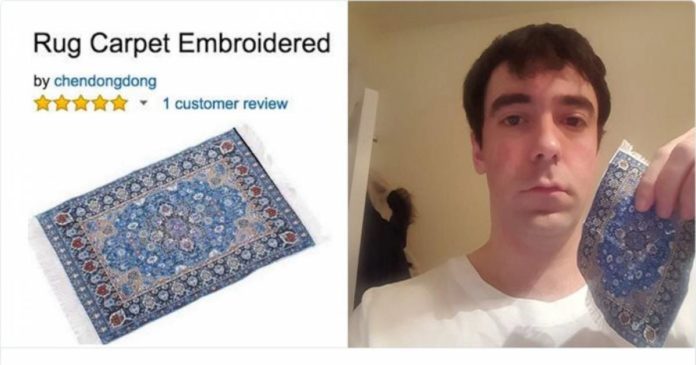 1 I Bought This Cup For My Wife Expecting It To Change From A Black Cup To A Christmas Scene
2 Three Years Ago I Unknowingly Bought A 2 Person Childs Tent Thinking It Was Adult SizedAnd I Stil
3 Bought A Rug Online For My Room
4 Thought I Brought The Cutest Little PJ Set Until I Looked Closer At The Patter
5 Tried To Surprised My Mum For Mothers Day. Put This In The Special Requirements And They F***in P
6 My Mum Ordered A Cake For My Sister And Asked For A Blond Girl On Top But It Autocorrected To Bli
7 The Fur Wolf Tail For Halloween Fancy Dress I Ordered Off Ebay Has Arrived
8 My Mum Ordered My Nephew A Converse Rucksack For School Online And This Is What Came
9 Pretty Sure These Arent 32 Length
10 I Dont Know About This, You Guys. I Dont Think This Is What I Ordered
11 My Roomate Ordered A TV Stand Off Amazon. This Is What Came
12 Worst Purchase Ever
13 My 16 Y.O Daughter Bought This
It Is Ridiculously Small And I Probably Couldnt Legally Post A Pic Of What It Looks Like If She Attempts To Wear It.
14 Wtf Never Buying Off Ebay Again
15 Thanks For The Flowers Substitution
SUBSCRIBE
Get our best stories right to your inbox once every week.
Subscribed successfully..
---