Selfie's Can Be Freaking Dangerous! 10 Times People Lost Their Lives While Taking Selfie.
Home
>
wtf
> Selfie's Can Be Freaking Dangerous! 10 Times People Lost Their Lives While Taking Selfie.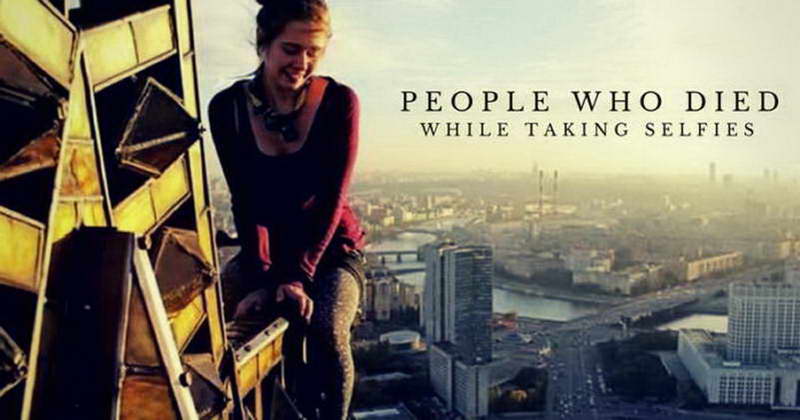 selfies are a trend now. We tend to take selfies every then and now. Most people try to take at least one selfie every day and upload on their social media accounts. While some other selfie-addicts try to get things that are different. They try to take selfies with dangerous angles. But sometimes selfies can go terribly wrong. Here are the few instants where people lost their lives while trying to take selfies.
10 The tourist who plunged to her death while taking a selfie on a landmark bridge
In 2014, a 23-year-old nursing student from Poland died while attempting a selfie on the iconic Puente de Triana bridge in southern Spain. While balancing on the ledge of the famous bridge, Sylwia Rajchel slipped and fell 15 feet into the structures concrete footings. She was revived after going into cardiac arrest at the scene but died later in the Hospital of Traumatology. The harrowing accident happened on the young woman's dream vacation.
9 The selfie-obsessed Romanian teen who burst into flames after touching a live wire
In May 2015, a Romanian teenager burst into flames after accidentally touching a live wire while attempting to take the ultimate selfie on the roof of a train. Anna Ursu,18, and a friend went to a train station in the town of Iasi to take a unique selfie that she intended to post on Facebook. As she lay on top of a train and stuck one of her legs in the air, an electrical field surrounding the overhead cables sent 27,000 volts zapping through her body, causing her to burst into flames. Despite the best efforts of a passer-by to save her, the 18-year-old later died in a hospital with burns to 50 per cent of her body
#8 The bride to be killed in a fatal car crash after a taking selfie on the way to her bachelorette
Bride-to-be Colette Moreno, 26, died in a car crash in June 2014, on her way to her bachelorette party. She was in the passenger seat when the car driven by her friend collided with an oncoming vehicle. Ashley M. Theobald said she was trying to pass a semi whose exhaust fumes were causing Moreno to have an asthmatic reaction. She left behind her five-year-old son and her devastated fiance, Jesse Arcobasso.
7 The woman who fell to her death while taking a selfie on a first date
James Nichols is offering 300 (S$630) for a rock that was stolen from his car. Why so much? Because it was chosen by his late girlfriend, who fell to her death while taking a selfie with him on a cliff on their first date. The couple had been in a long-distance relationship. Mr. Nichols flew from the UK to South Africa to meet Miss Cheyenne Holloway in person. The pair visited Northcliff Hill, the second highest point in the city of Johannesburg. They stopped to take a selfie against the backdrop of the setting sun. According to a witness, Miss Holloway, 21, was standing on a large rock near the cliff top while Mr. Nichols, 23, a portrait photographer, set up a tripod. The rock gave way, and Miss Holloway fell about 15m onto a pathway. Mr. Nichols rushed down and performed cardiopulmonary resuscitation for 20 minutes until paramedics arrived. But Miss Holloway, a bassist in a band called Burning Blue, was declared dead at the scene.
6 The man who died after accidentally shooting himself while taking a selfie
Playing with guns is dangerous, but taking selfies with guns can kill you. In 2014, a Mexican man died after taking a selfie when the gun he was using as a prop discharged and mortally wounded him. The victim was identified as 21-year-old Oscar Otero Aguilar. He was a fan of taking elaborate selfies if his Facebook page was any indication. He's seen posing in front of fancy cars, expensive motorcycles, and pretty women. According to the police, the young man was waving it around while trying to take the picture. He died on his way to the hospital.
5 The teen who died after falling from the bathroom door while attempting to take a photo for the #S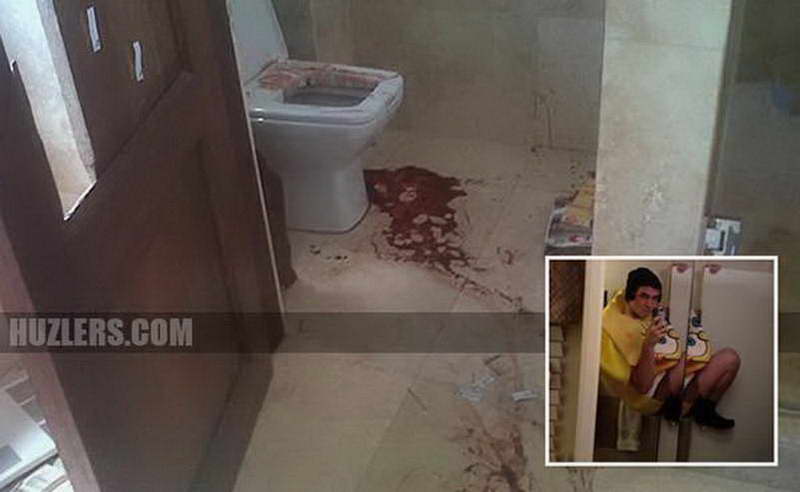 The popular trend that goes by the name #SelfieOlympics claimed the life of 18-year-old Oscar Reyes. On January 2, 2015, the teenager snapped a photo of himself in a Sponge Bob costume and uploaded it to Facebook. The photo generated over 200 likes. Friends of Oscar say that amount of likes motivated him to try and snap a picture he described to friends as Crazy AF. Investigators say he was in his mother's restroom on January 3rd around 2 AM when he fell off the door and injured his head. He died from excessive bleeding. A Facebook page was later created to remember the young man.
4 The Polish couple who was killed in a cliff fall after posing for selfies
In August 2014, a Polish couple died after falling from a cliff in Portugals Cabo da Roca, while apparently trying to take selfies with their children near the edge. The couple's children, aged 5 and 6, witnessed the fall and were set in the care of Polish diplomats and psychologists.
3 The 18-year-old who died attempting a group beach birthday selfie
A young woman named Chezka Agas drowned while posing for a group selfie after a friends birthday celebration in the Philippines. The 18-year-old civil engineering student was overtaken by a strong wave that struck the group as they posed in front of the famous Bangui windmills on a beach in Barangay Masikil. Police rushed Ms. Agas to a nearby hospital, but she was pronounced dead upon arrival.
2 The teen who plunged 30ft to her death after trying to take a selfie on top of a railway bridge
A 17-year-old girl plunged 30 feet to her death as she climbed onto a railway bridge to take a selfie. Xenia Ignatyeva was a month short of her 18th birthday when she fell and was hit by 1,500 volts as she was electrocuted when she tried to grab live wires. Xenia was a keen amateur photographer, and her big passion had been taking pictures of herself with a camera she bought at the end of 2013 after a summer job. But her life was cut short when she decided that the top of the rail bridge in Krasnogvardeysky, in the Russian city of Saint Petersburg, would make a great location for one of her pictures. Police, alerted by an anonymous call saying children had been playing on the bridge, believe the teen may have been alive for a short while after she hit the ground.
1 The Puerto Rican rapper who died after taking a selfie while riding his motorcycle
Ramon Gonzalez was a rapper from Puerto Rico, who sang Reggaeton music and went by the name Jadiel. He had multiple hits during his lifetime, including Fashion Girl and Sol y Arena. While visiting family in Rochester, New York, Jadiel was going for a ride on his motorcycle and snapped a selfie. Moments later, Jadiel lost control of his motorcycle and ended up in the path of an oncoming vehicle. He died on May 10, 2014, at Strong Memorial Hospital.
Even though selfies are a way to capture beautiful moments, don't be careless or too aggressive while taking selfies. Life is more precious than selfies. Share this message with your friends also
SUBSCRIBE
Get our best stories right to your inbox once every week.
Subscribed successfully..
---