Celebrities Who Totally Owned Their Body Shamers On Social Media
Home
>
celebrities
> Celebrities Who Totally Owned Their Body Shamers On Social Media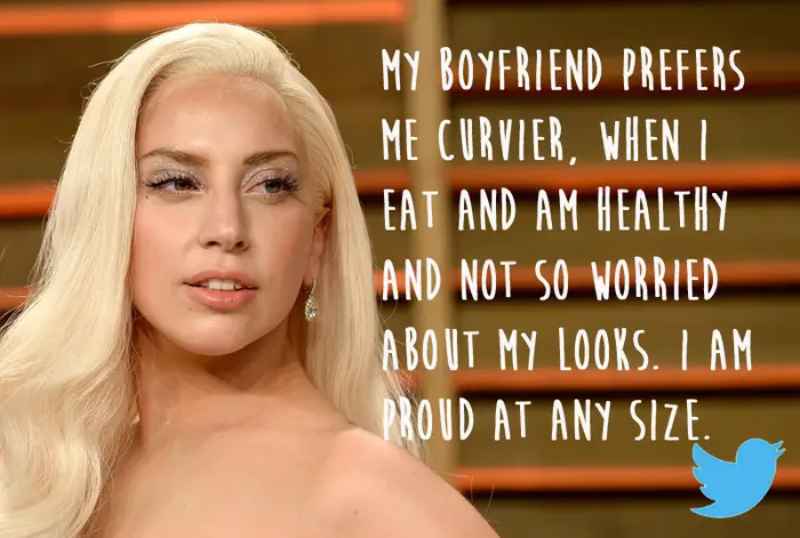 Every human being is not born perfect. We all have some sort of problem within us. The body shape is one among them. We all have a habit of criticizing people for their difficulties and we do the same when we see the body shape of someone different from others. It either leads to a fight or clash and sometimes people accept the comments and ignore them. So here are a few celebrities who got trolled for their body image -
1. LADY GAGA
1. LADY GAGA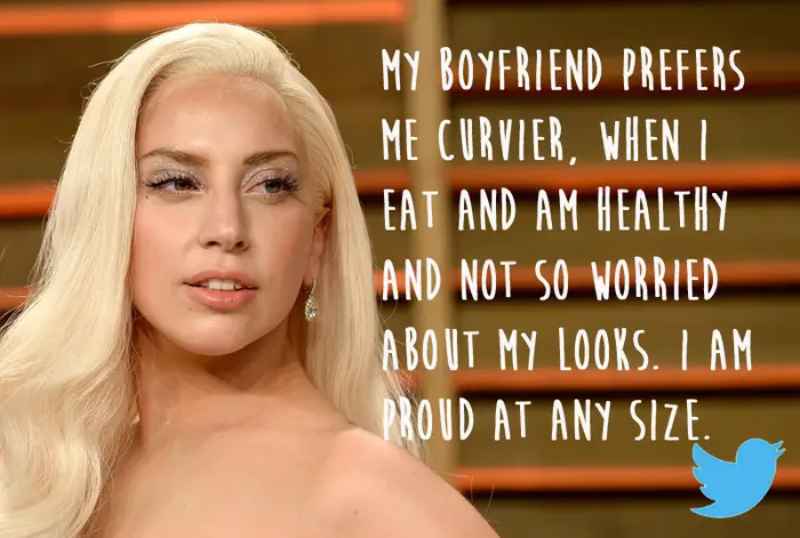 "My boyfriend prefers me curvier when I eat and am healthy and not so worried about my looks. I am proud at any size" -
Famous pop singer Lady Gaga was heavily trolled and abused for having two stones. She confessed later that she is proud at any size.
2. KIM KARDASHIAN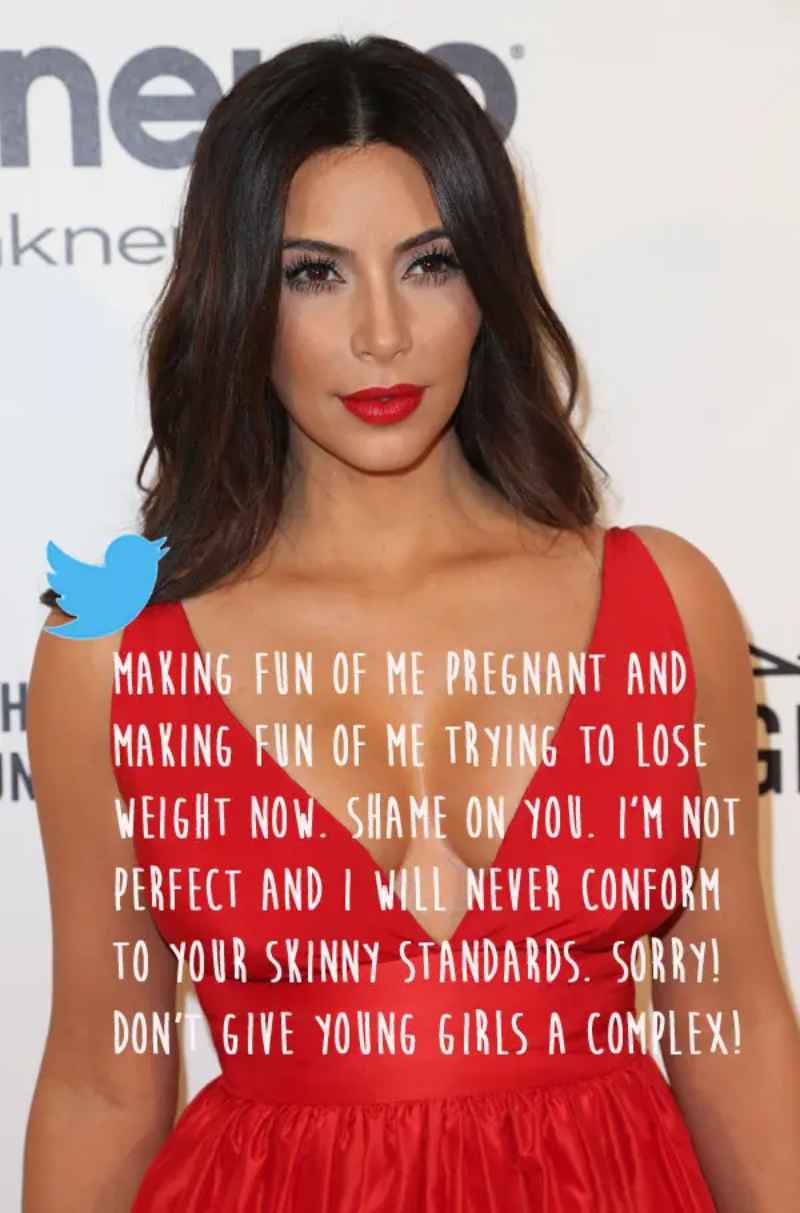 "Making fun of me pregnant and making fun of me trying to lose weight now. Shame om you. I'm not perfect and I will never conform to your skinny standards. Sorry! Don't give young girls a complex!" -
The Kardashian family has been on the news for different reasons. When Kim Kardashian was pregnant, she was abused on Twitter for gaining over three stones and her pictures of the post-baby body.
3. LILY ALLEN
"Yes, after tragically losing a child so late in pregnancy I may have gained a few pounds, I am one of many that find comfort in food". -
Lily Allen gained some weight as a result of her miscarriage after seven months of pregnancy and comfort eating. She was trolled on Twitter for this and she explained that she was taking bed rest after two pregnancies as a result of the fear of miscarriage and this led to an increase in her weight.
4. CHERYL COLE
"People are entitled to their own opinion. I've never really concerned myself with other people's body parts!" -
Famous singer Cheryl Cole has delivered a large number of hits since the beginning of her career. She rose to fame in 2002. She was trolled on Twitter for the new tattoo she made which was covering her lower back and bum. But shockingly, the trolls didn't have any sort of effect on her.
5. ROB KARDASHIAN
"I'm aware that I'm fat. That definitely isn't a surprise to me. Lol. And my only therapy will be in the gym." -
The Kardashian family has been termed as one of the most talented families of Hollywood. This popularity also lands them sometimes in some controversies. Rob Kardashian was trolled for his weight and he answered people by clearing that he was in the rehab for his problems.
6. KHLOE KARDASHIAN
"What shallow souls some of you are. It's sickening to critique anyone off of their appearance. You should be ashamed of yourself. Your words are cutting deeper than you know and are possibly leaving lifetime scars!" -
Khloe Kardashian is another supremely talented member of the Kardashian family. Since the family is something we care a lot about, the same has been the case with Khloe. When her brother Rob was getting trolled for his weight, she took a stand for him and defended by saying that those who are trolling should be ashamed of themselves.
7. IGGY AZALEA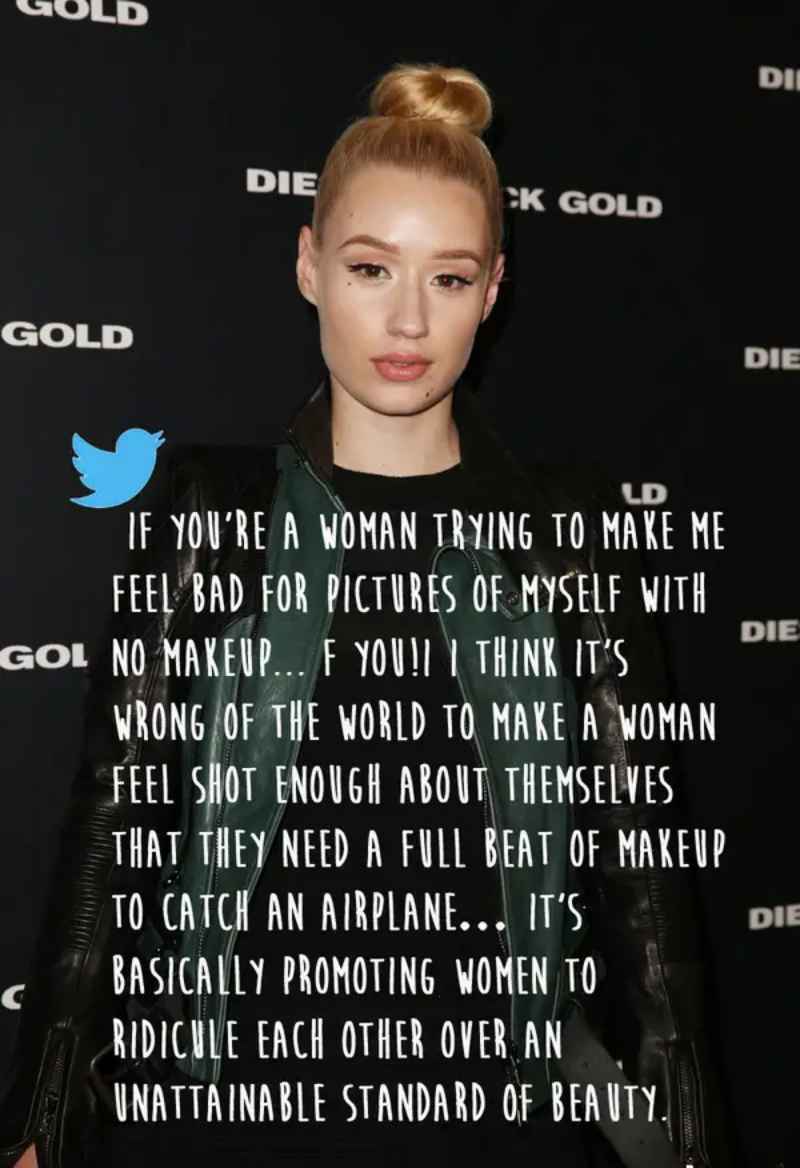 "If you're a woman trying to make me feel bad for pictures of myself with no makeup... F you!! I think it's wrong of the world to make a woman feel shot enough about themselves that they need a full beat of makeup to catch an airplane... It's promoting women to ridicule each other over an unattainable standard of beauty." -
Australian rapper and singer Iggy Azalea gained public attention after the release of her songs "Pussy" and "Two Times". Her debut album "The New Classic" was also able to top the Billboard charts. She was trolled after her pictures at an airport went viral where she was seen without any makeup.
8. DEMI LOVATO
"Guess what? I'm happy and healthy. And if you're hating on my weight you obviously aren't" -
American actress and singer Demi Lovato made her debut with the famous television series "Barney and Friends" in the year 2002. She later gained fame and popularity after appearing in Disney Channel's two musical films "Camp Rock" and "Camp Rock 2: The Final Jam" in 2008 and 2010. Demi was once undergoing treatment for bulimia and self-harm which led to an increase in her weight. This weight gain problem eventually became a reason of her trolling on social media.
9. JENNIFER ELLISON
"To all the horrible people commenting about my weight... I gave birth 12 weeks ago! Sort your heads out, my baby boy is my priority, not my size!" -
Famous actress and television personality Jennifer Ellison is popular among all of us for her role as Emily Shadwick in the famous soap opera "Brookside" from 1998 to 2003. Three months after she gave birth to a baby, she uploaded a post-pregnancy photo which became a big reason for criticism and abuse on social media.
10. KYLIE JENNER
"These plastic surgery rumours hurt my feelings, to be honest. And are kinda insulting. Just in case anyone forgot... I'm 16." -
American model and media personality Kylie Jenner has been a part of the famous popular reality television series "Keeping Up with the Kardashians" from 2007. Kylie Jenner was trolled for going through a surgery, which included lip fillers, nose job, and the reshaping of her chin.
11. ADAM LEVINE
"I hope people understand that when they say my hair looks creepy. I take that as the highest compliment." -
Famous American singer Adam Levine is popularly known as the main lead of the well-known pop-rock band "Maroon 5". He has been a recipient of Grammy Awards and MTV Video Music Award. The popular singer was heavily criticized after he coloured his hair and this became big news on social media.
12. ALEXA CHUNG
"Ok thanks, everyone for the teen angst discussions. People are of different sizes. I'm not trying to be 'Thinspo' for anyone." -
British writer, model, and fashion designer Alexa Chung has been an author of many famous books and also launched her fashion brand in the year 2017. Alexa once made a public statement where she said that women were taking inspiration from her to lose weight and become thin. This didn't go well with the public and they trolled her after which she was forced to make her Instagram account private.
13. KENDALL JENNER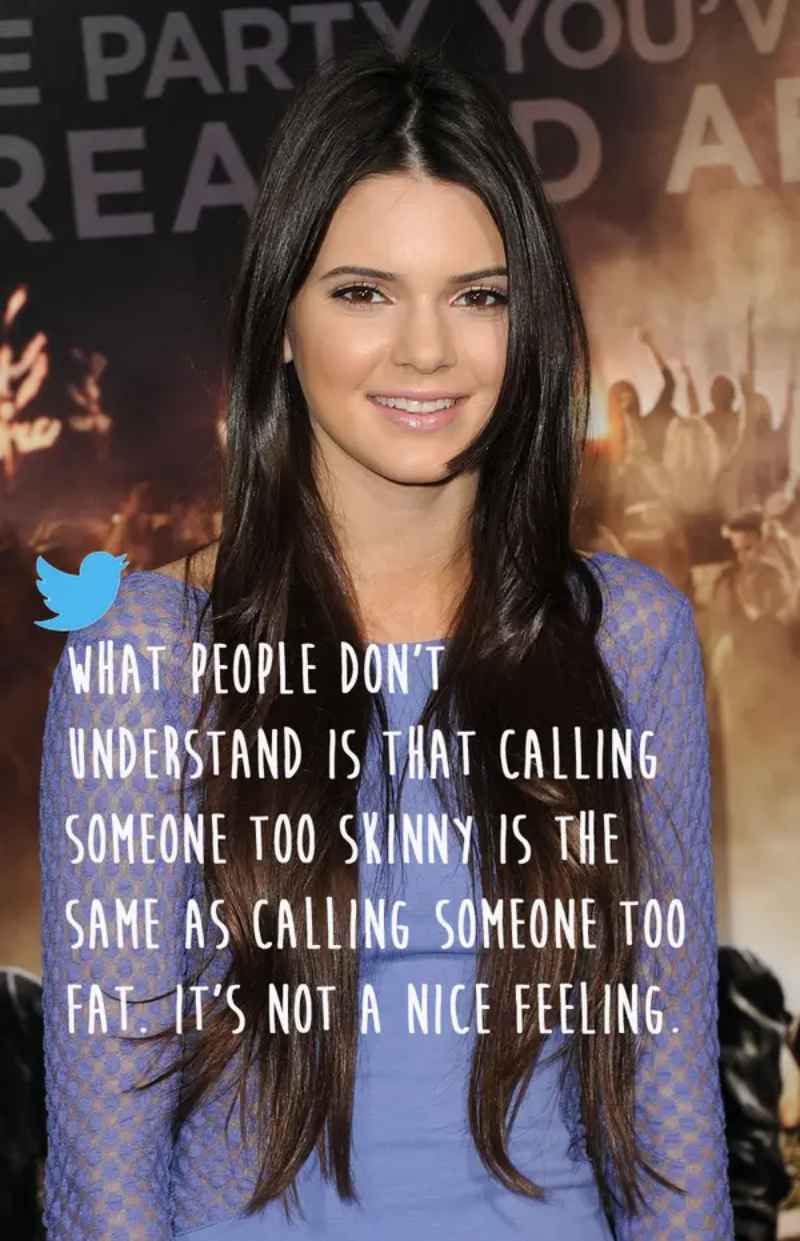 "What people don't understand is that calling someone too skinny is the same as calling someone too fat. It's not a nice feeling." -
Kendall Jenner became popular after her appearance in the famous reality television series "Keeping Up with the Kardashians". Initially, she started her career in modeling at the age of 14. Kendall Jenner was once trolled for being "too skinny" and later, she also smartly responded to those trolls.
14. LIAM PAYNE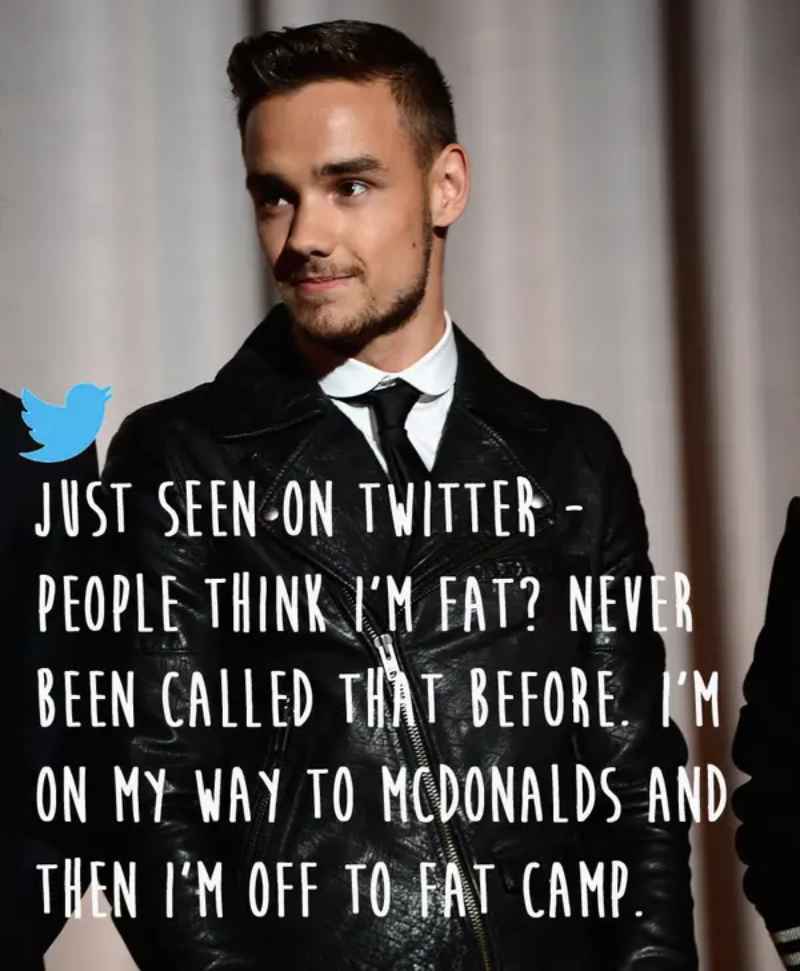 "Just seen on Twitter - People think I'm fat? Never been called that before. I'm on my way to McDonald's and then I'm off to fat camp." -
Liam Payne initially made his debut by appearing in the British television series "X-Factor" in the year 2008 as a singer. He gained fame as a member of "One Direction". When he uploaded his photos posing at a beach, he was trolled by a lot of people claiming that he was looking too fat.
15. LEANN RIMES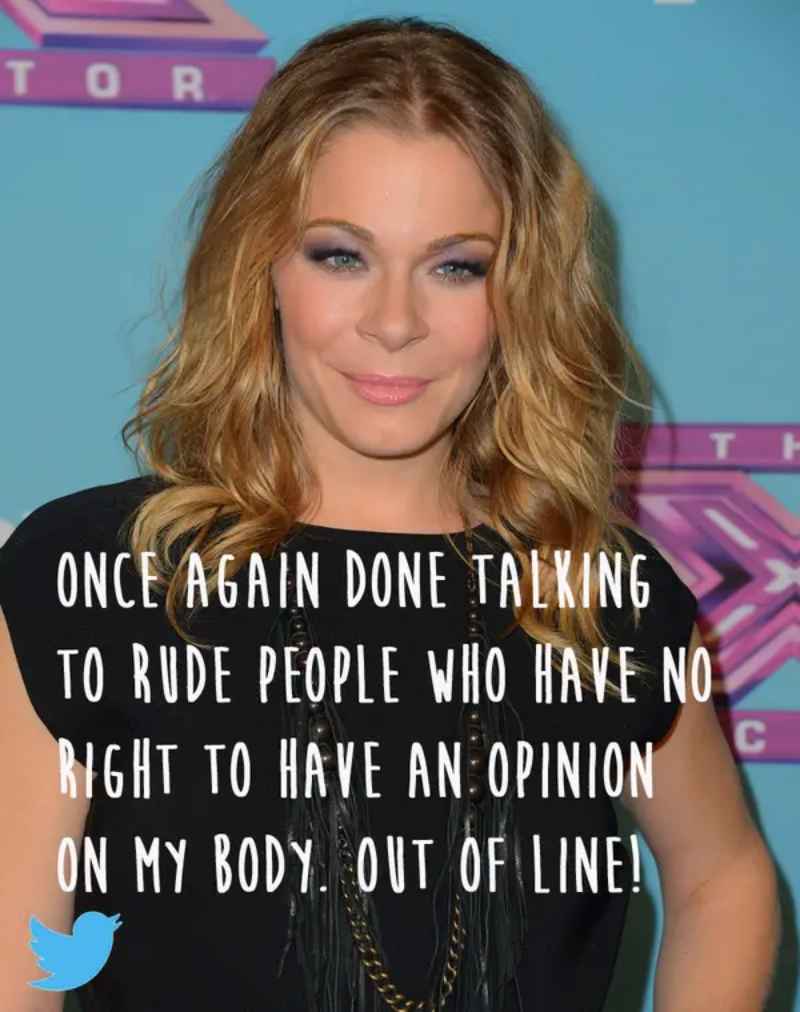 "Once again done talking to rude people who have no right to have an opinion on my body. Out of line!" -
American singer Leann Rimes gained fame and stardom when she was just 13 years old after the release of "Blue" which she released in her version of singing. She has been a recipient of Grammy, ACM, CMA, Billboard, and American Music Awards. She was trolled once for being very skinny and this also made her very angry.
16. CHANELLE HAYES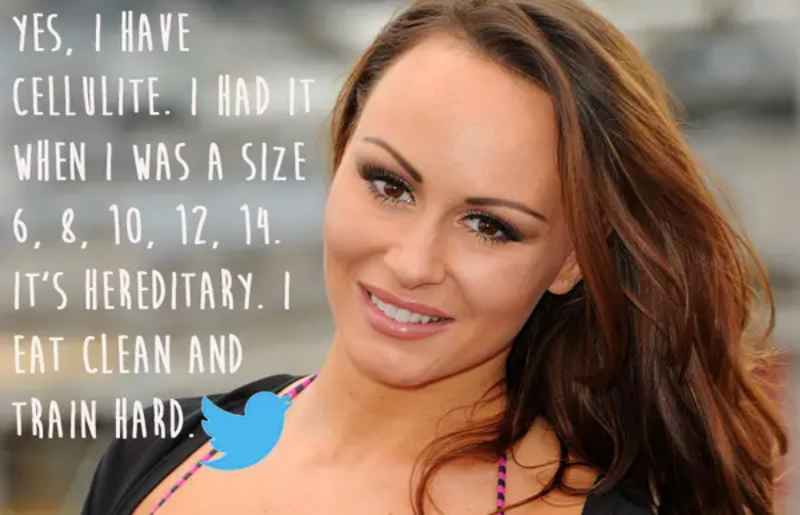 "Yes, I have cellulite. I had it when I was a size 6, 8, 10, 12, 14. It's hereditary. I eat clean and train hard." -
British singer and model gained big attention after her appearance in the famous reality series "Big Brother" at the age of 19 years in the year 2007. Most recently, she made an announcement in the public where she revealed about her three-stone weight loss after which she was trolled for not losing weight according to what she claimed.
17. MICHELLE HEATON
"I still now can't believe the disgusting tweets I get telling me my 'boob' job is disgusting. To all of you un-educated people do your research before you bully me for something I did to potentially save my life." -
Popular and well-known singer and television personality Michelle Heaton was trolled on social media for her surgery. She had to undergo a double mastectomy after she got to know that she had an 80% risk of falling prey to breast cancer as a result of the presence of BRCA2 cancer gene insider her body.
18. REBEL WILSON
"I never want to be too unhealthy though, so even though I like desserts (clearly), I still try to exercise e.g. walk to the shop to get ice-cream." -
Rebel Wilson has done some memorable roles on screen. She has appeared in a large number of television shows and movies and has been a recipient of many awards. She was trolled on Twitter for her weight. She responded by saying that she does mermaid dancing in a month which she records as cardio.
19. IRELAND BALDWIN
"What I don't understand, is what is the good in commenting on a photo of a 17-year-old girl and calling her fat, ugly, etc? Is that helping you in some way? I'm confused. Putting out there is hateful and unhealthy." -
Ireland Baldwin, who is the daughter of the famous actor Alec Baldwin made her debut in the year 2013 and appeared in films like "Grudge Match". She responded to the criticisms made about the body of other actresses and her own too when she was trolled on social media regarding her physical appearance.
20. ZOOEY DESCHANEL
"Summer Menu: 1. Full Fat Dairy 2. Carbs 3. Wine. Enjoy." - Zooey Deschanel is known for her appearance in comedy films during the beginning stage of her career. She made her debut in the film "Mumford" released in 1999. Zooey was trolled regarding her physical appearance but she completely ignored those criticisms by saying that she enjoys her daily diet.
SUBSCRIBE
Get our best stories right to your inbox once every week.
Subscribed successfully..
---