TV Couples Who Fell In Love And Become Real Life Couples
Home
>
celebrities
> TV Couples Who Fell In Love And Become Real Life Couples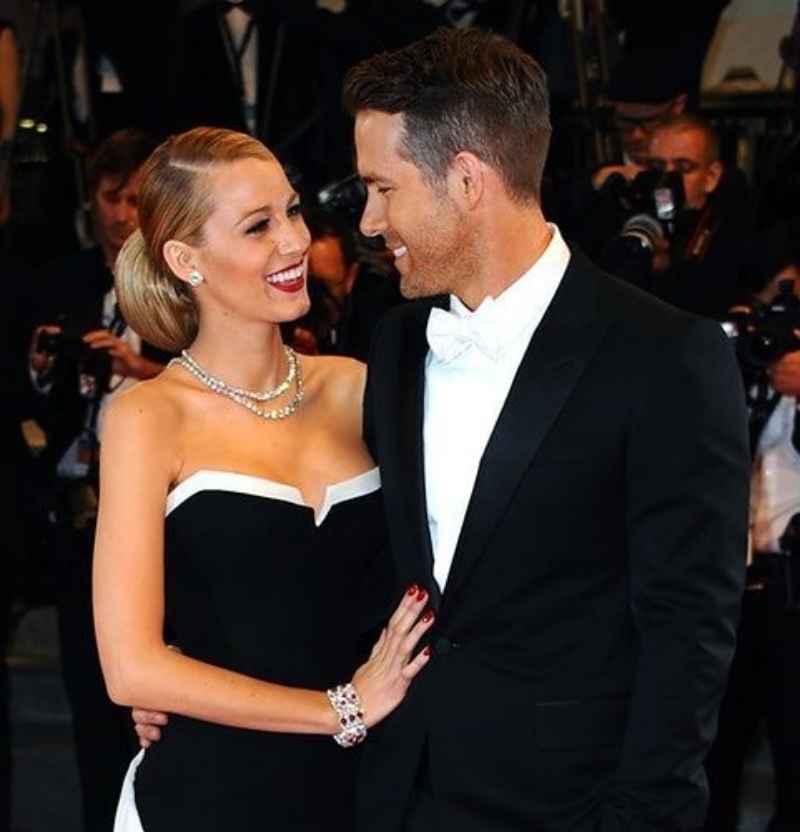 Love is a feeling of affection towards someone and having an interest or pleasure on something. It can be seen everywhere. In today's world, we can see dozens of couples in cinema halls, restaurants, or benches of the parks. It can be said with conviction that the same is happening in the film industry. The on-screen couples seen on a TV series or movie later fall in love with each other in the real world too. Here are a few on-screen couples who became real-life couples at a point of time -
1. ROSE LESLIE AND KIT HARINGTON
In the list of the best TV series, "Game of Thrones" has been able to gain the first position because of its outstanding reviews from critics as well as the audience. Two leading actors, Ros Leslie and Kit Harington who played the roles of Ygritte and Jon Snow were in a relationship once, and recently, they broke up.
2. COURTNEY COX AND DAVID ARQUETTE
Wes Craven was one of the most talented directors of Hollywood. The "Scream" franchise was one of the best among them. Courtney Cox and David Arquette became romantically involved with each other during this movie and tied the knot in 2003. Unfortunately, the couple divorced in 2013.
3. RYAN REYNOLDS AND BLAKE LIVELY
The film adaptation of DC's "Green Lantern" was unsuccessful at the box office. The lead actor Ryan Reynolds even expressed his disappointment with the movie later. He and the lead actress, Blake Lively got married in 2012 and even gave birth to a daughter in 2014.
4. CHANNING TATUM AND JENNA DEWAN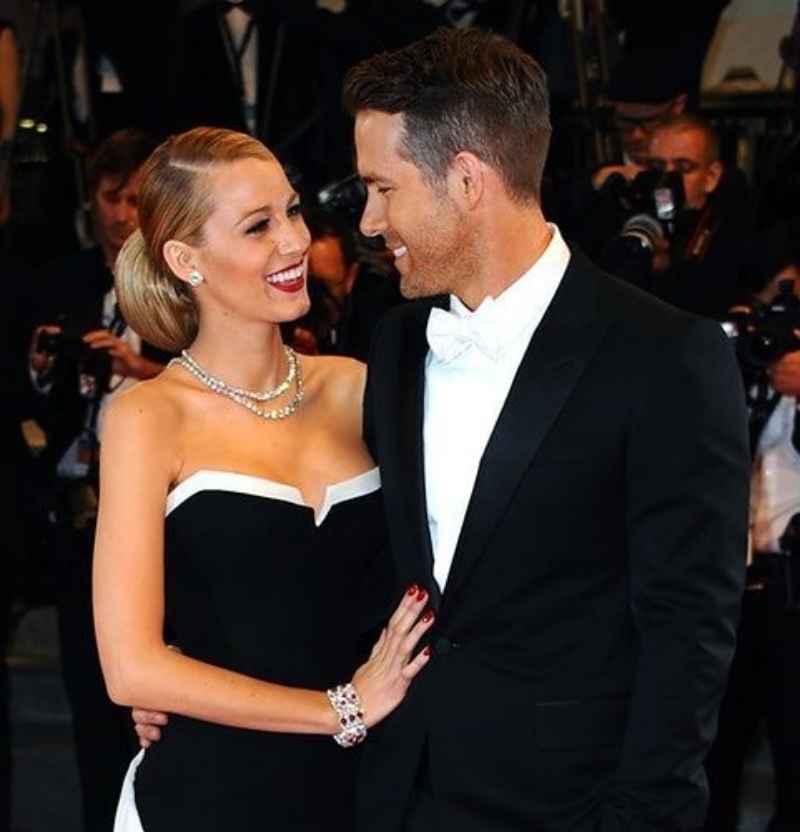 The "Step Up" franchise has been one of the most successful film franchises in Hollywood. The lead pair of the first installment, Channing Tatum and Jenna Dewan got married in 2009 and welcomed a cute baby girl in 2013.
5. NINA DOBREV AND IAN SOMERHALDER
The characters and the chemistry of Elena Gilbert and Damon Salvatore were loved by audiences in the supernatural teen drama "The Vampire Diaries". Nina Dobrev and Ian Somerhalder were dating each other for around three years and later got separated. Ian Somerhalder is now married to Nikki Reed.
6. EMILY VANCAMP AND JOSH BOWMAN
The American drama "Revenge" received highly positive reviews from critics and audiences when it was first released. Emily Vancamp and Josh Bowman who were playing the role of a couple on the show started dating each other during the show and became a real-life couple later.
7. GINNIFER GOODWIN AND JOSH DALLAS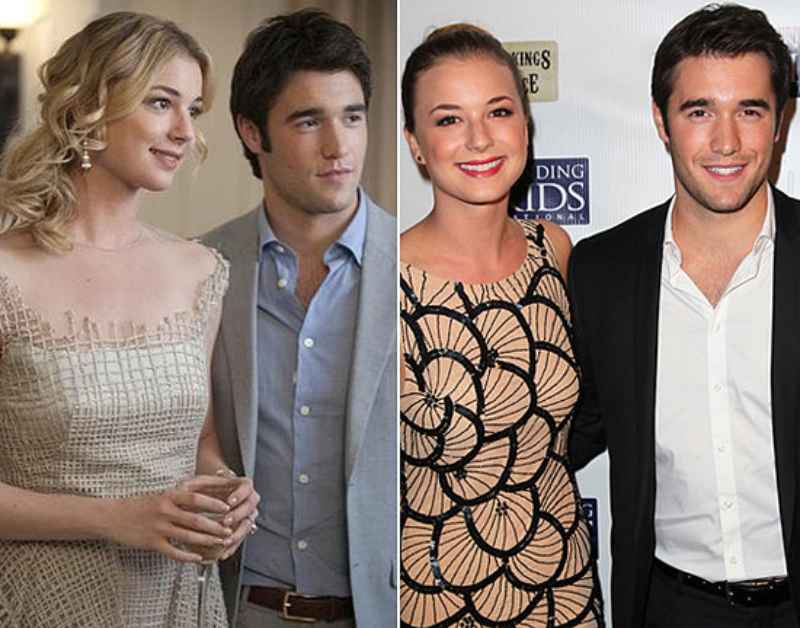 The American fantasy series "Once Upon A Time" was acclaimed by critics for its unique storytelling. It is still a favourite among many people. Ginnifer Goodman and Josh Dallas who played the roles of Snow White and Prince Charming in the series later got married to each other in real life and are now the parents of one child.
8. KAT DENNINGS AND NICK ZANO
"2 Broke Girls", an American sitcom which was made by Warner Bros, attained a large amount of viewership after its release. Two of the lead characters, Max and Johnny played by Kat Dennings and Nick Zano were going through a complicated flirtationship in the series. But outside the screen, they have been a strong couple.
9. ANNA PAQUIN AND STEPHEN MOYER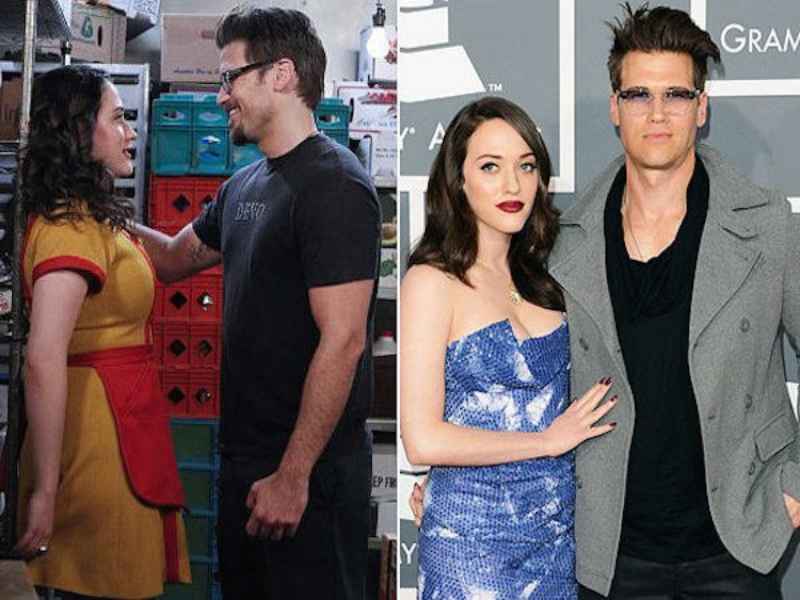 The supernatural drama series "True Blood" was a story of a relationship between a human being and a vampire. The lead characters, Sookie Stackhouse and Bill Compton, played by Anna Paquin and Stephen Moyer were loved by everyone and they didn't share a great love bond in the series. But in reality, their relationship is going through a very good phase.
10. LEIGHTON MEESTER AND SEBASTIAN STAN
Sebastian Stan, who is still remembered for his powerful role as Bucky Barnes or the Winter Soldier in Marvel Studios' "Captain America" trilogy and the last two installments of "Avengers" franchise started dating co-actress Leighton Meester on the sets of the show "Gossip Girl" for a few years.
11. JENNIFER MORRISON AND JESSE SPENCER
The American series "House" has been a big hit on the small screens. It was appreciated for its story. Two of the lead characters, Jennifer Morrison and Jesse Spencer, who played the role of a couple on the show, got engaged and married to each other in reality and is now living a happy life.
12. LISA RINNA AND HARRY HAMLIN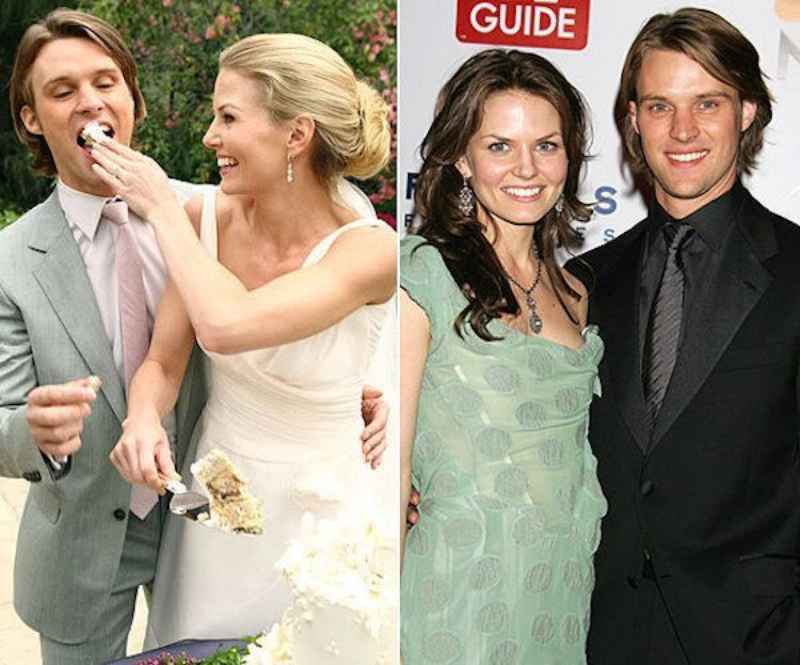 The American mystery drama series "Veronica Mars" was able to attract a large audience during its release. Lisa Rinna and Harry Hamlin played the roles of Lynn Echolls and Aaron Echolls who were a couple on the show. This on-screen couple got married in real life too and are now living a happy life.
13. MILA KUNIS AND ASHTON KUTCHER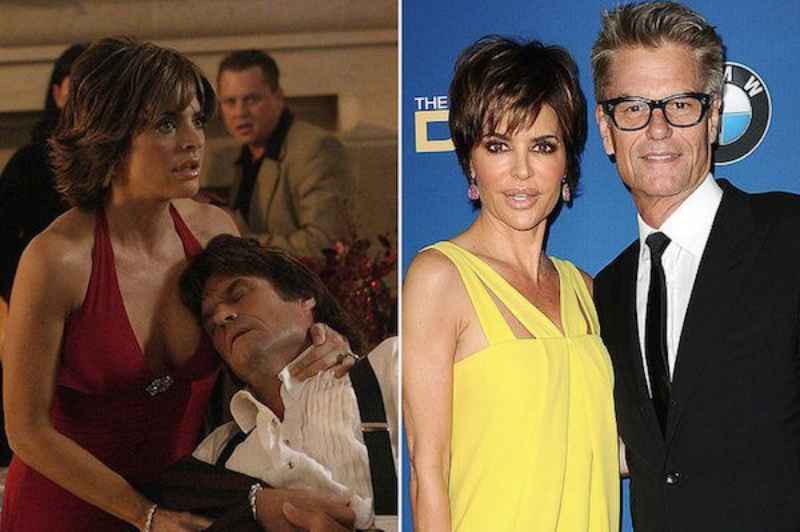 The American period sitcom "That '70s Show" was the longest-running series that aired from 23rd August 1998 to 18th May 2006. Two lead actors of the show, Mila Kunis and Ashton Kutcher met each other on the sets of this show and started dating each other. After the show ended, they got married after a few years and are now parents to a beautiful daughter.
14. ALEXIS BLEDEL AND MILO VENTIMIGLIA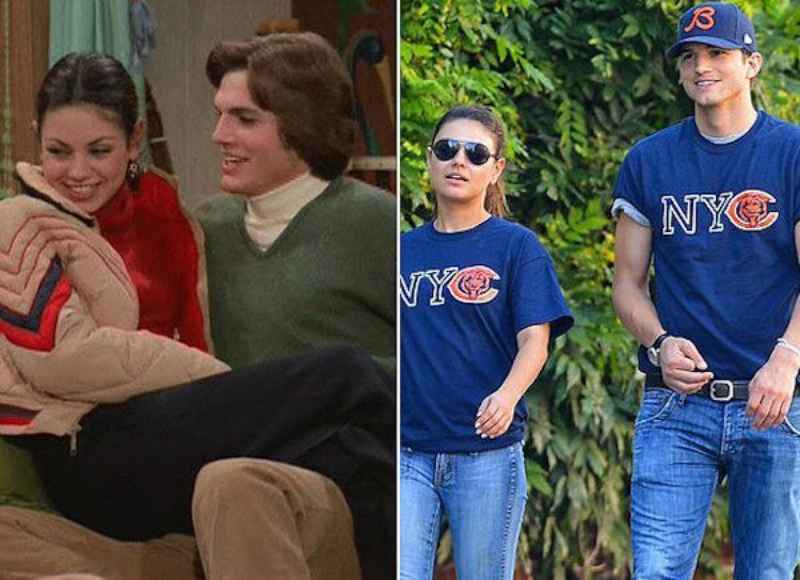 "Gilmore Girls", which was a comedy-drama TV series had a huge ensemble cast, was loved by critics and audiences as well. Alexis Bledel and Milo Ventimiglia, who played the roles of Rory Gilmore and Jess Mariano, dated each other from 2002 to 2006.
15. JASON SEGEL AND LINDA CARDELLINI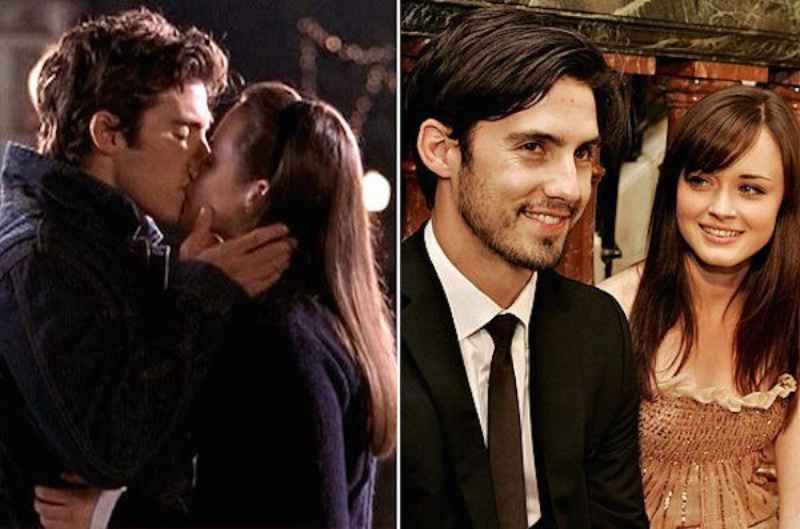 The American teen comedy-drama series "Freaks and Geeks" was a story of friendship between a gang of slacker 'freaks' and a group of geeks. Jason Segel and Linda Cardellini who played the roles of Nick Andopolis and Lindsay Weir met on the sets of this show and later dated each other for a few months
16. JENNIFER GARNER AND MICHAEL VARTAN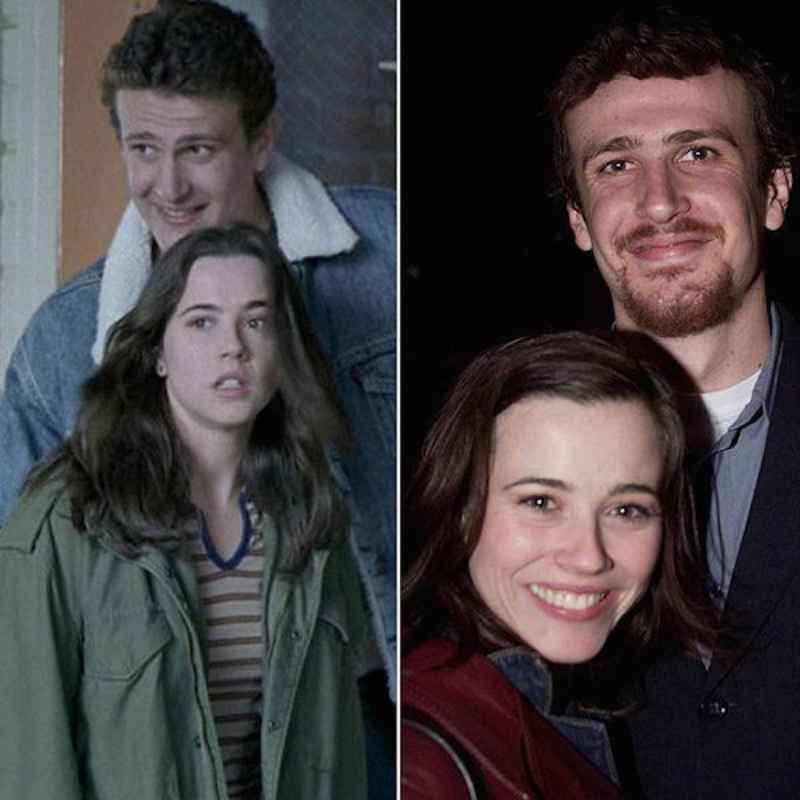 The American drama "Alias" became popular and successful upon its release and was applauded by critics. The lead actors, Jennifer Garner and Michael Vartan played the characters of Sydney and Michael and worked together as a pair in CIA. Outside the screen, they dated each other for a few months.
17. JERRY FERRARA AND JAMIE-LYNN SIGLER
The American comedy-drama "Entourage" continued for eight seasons and ended in 11th September 2011. Jerry Ferrara and Jamie-Lynn Sigler met each other during this show and stayed together as a couple for around one year till 2009.
18. MELISSA BENOIST AND BLAKE JENNER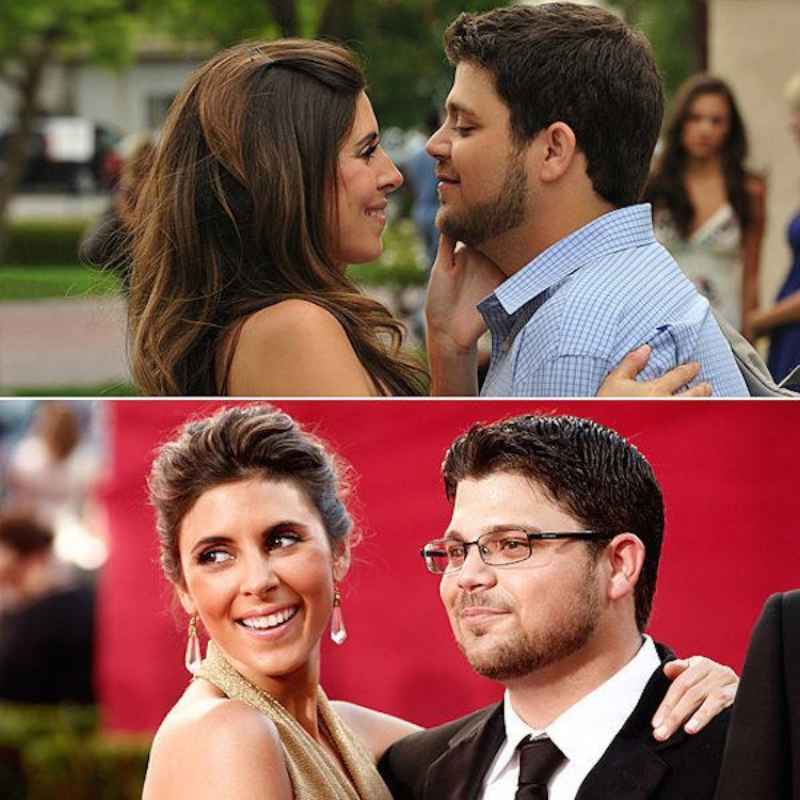 The American TV show "Glee" was able to gain a very large viewership after its release on the small screen. Melissa Benoist and Blake Jenner, who played the roles of Marley Rose and Ryder Lynn started dating each other during this show and the fans were completely surprised after they heard about their engagement.
19. MAGGIE Q AND DYLAN MCDERMOTT
American crime drama "Stalker" has been one of the most unique series that ran for only one season and had a suspense ending. Maggie Q, who was playing the lead role of the victim of stalking, met Dylan McDermott, playing the role of an LAPD detective, on the sets of this show. Most recently, they made a public announcement of their engagement to the public.
20. TEA LEONI AND TIM DALY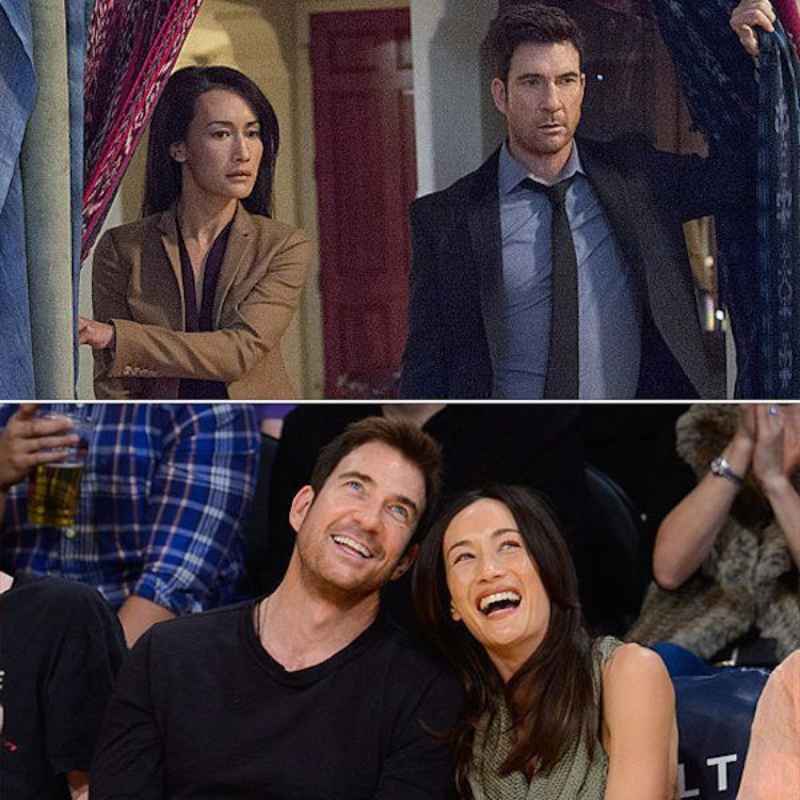 The famous TV series, "Madam Secretary" showcased the love story of a married couple. It was appreciated by the critics as well as the audience. Tea Leoni and Tim Daily, who played the lead characters in this show, were a couple in real life as well.
21. ALEXIS BLEDEL AND VINCENT KARTHEISER
"Mad Men" ran for around seven seasons from 2007 to 2015 on the cable network AMC. It was a period drama and was highly successful. Alexis Bladel and Vincent Kartheiser, who played the roles of Beth Dawes and Pete Campbell didn't share a good chemistry on-screen but in reality, they are now a happily married couple.
22. CHAD MICHAEL MURRAY AND SOPHIA BUSH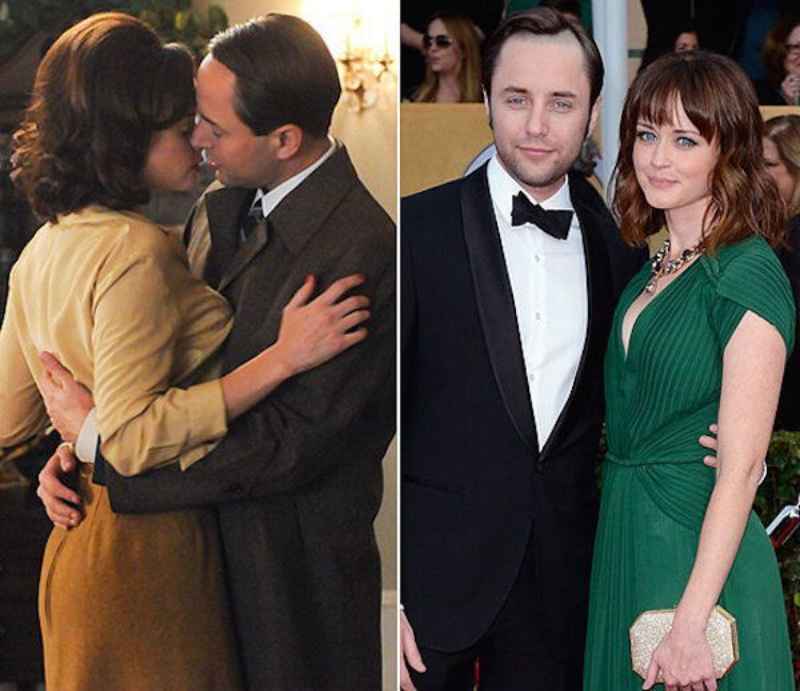 Chad Michael Murray and Sophia Bush shared very good chemistry on-screen as a couple when they appeared in the famous TV series "One Tree Hill". This chemistry later changed to real-life romance and they got married to each other. Unfortunately, they got divorced later but still appeared on the big screen together.
23. BLAKE LIVELY AND PENN BADGLEY
The American TV show "Gossip Girl" was on the headlines because of the on-screen romance of Blake Lively and Penn Badgley. The show had a happy ending and after the end of the show, Blake and Penn dated each other for a few years and got separated. Blake Lively is now happily married to Ryan Reynolds, who played the lead character in the film adaptation of Marvel Studios' "Deadpool".
24. BEN MCKENZIE AND MORENA BACCARIN
The famous TV show "Gotham" was able to get a very good response from the public because of its association with DC Comics' characters and films. Ben McKenzie and Morena Baccarin, who played the roles of James Gordon and Leslie Thompkins got romantically involved with each other on the sets of this show. Morena Baccarin even left her husband Austin Chick when she realized her true feelings for Ben McKenzie. They are now happily living together and are even expecting a baby anytime.
SUBSCRIBE
Get our best stories right to your inbox once every week.
Subscribed successfully..
---