A Beardo's Cheatsheet - How to Choose & Wear Popular Beard Styles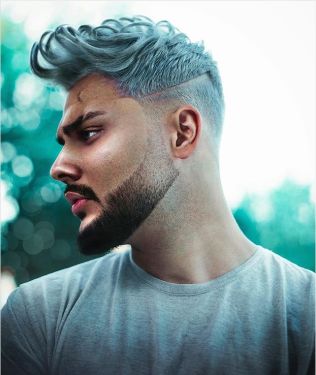 Beard styles are the new black. Again! The history of facial hairstyles began with mighty bushy beards that served as a masculine attribute of Roman rulers, Scandinavian warriors, and restless cowboys. Centuries later, the symbol of masculinity was pushed away by the rock-n-rolling dappers popularizing cleanly shaven looks with sticky shiny updos. Now, beards are not just back on the track; they're the biggest men's fashion trend in the 21st century. However, beards are not created equal, and men should always keep that in mind.
The art of wearing and choosing the perfect idea from the variety of beard styles requires a strategic approach. "A beard is like a good suit, it should be perfectly tailored to its wearer", men's hair trend experts from MensHairCuts.com tell their readers. With their expertise in mind, we've created this simple but essential guide to choosing and rocking a beard for men with different face shapes and hair growth patterns.
What Are the Different Beard Styles?
Whether you're a true beardo who's been rocking facial hair for as long as you can remember or a beardo at heart who has no idea which style to choose, we'd like to start by introducing the most popular styles to you first.
Disconnected Short Beard
Probably one of the most popular options of today, a disconnected beard is a facial style featuring a thick stubble or well-groomed and moderately shaped beard and sometimes mustache. The point is to engrave the beard into the skin at the edges so that it's blended with a faded haircut. As for the mustache, it's shaped separately from the beard to enhance the disconnected effect.
Short Rounded Beard
If you're fond of classic and natural silhouettes, you will love the way a rounded beard follows the natural curve of the face. It's a medium-thick facial style that adds tons of masculinity while looking pretty neat and balanced due to its shape. In other words, it's a perfect idea that will go well with most face shapes.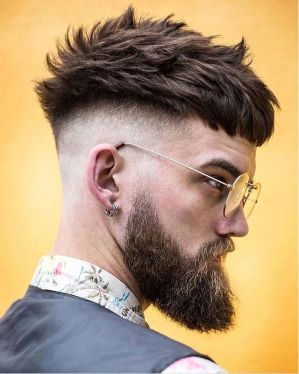 Image Source
Boxed Beard
Those who'd like to give their looks a bit of an edge can go with a short boxed beard. It's an angular style that accentuates the jawline with its longer length around the chin. Although the sharp style works great for all face shapes, oval and oblong faces are the best match.
Verdi Beard
It takes a lot of time and patience to grow your 4-inch Verdi, but it's totally worth it. Paired with a handlebar mustache, the style gives a majestic manly appearance to everyone who has the guts to grow it out. Usually, the Italian artist-inspired look is kept rounded, but you are free to shape it as you please.
Power Beard
If a beard was a badass attitude, that would be the power beard. When you have more than 6 inches of character escaping from your face, you don't need to tell people what kind of man you are. The beard will do the talking. This style blurs the line between rugged and modern, keeping up with the natural texture of the wearer's facial hair and having a softly polished round silhouette. In this case, a mustache is a must!
Patchy Beard
Let's be honest, not every folk is blessed with thick and dense-growing facial hair. Don't blame yourself or anyone else, sometimes it's just all about genetics. And while you can't outsmart it with some "beard growing pills", you can actually do some magic with the right beard styles. A patchy beard focuses on the parts of the hair that grow, keeping the sparse areas short. The point is to shape up the overall silhouette and compensate the look with a mustache. Lots of male celebrities have nailed this style!
Image Source
How Do I Choose My Beard Style?
Of course, the density of your facial hair plays an important role, but that's not the only thing you should consider when choosing the right beard styles. Your face shape is the main determiner, as your facial style should be not just a complement but an extension of it. Here's a barber's check-list of good matches to help you pick the perfect idea.
Round faces should opt for angular beards that are short in the cheeks area to flatter and elongate the silhouette visually.
Square faces look best with rounded or triangular beard shapes that balance out the broad jawline, softly accentuating it.
Oval faces won't go wrong with a square-shaped beard that's short and tight on the sides and features cleanly outlined cheeks.
Diamond faces should focus on creating the visual width, so some fullness on the cheeks and jawbone area will do the trick.
Heart faces have a pretty narrow chin, and the best way to add some power to it is to keep it thick and leave more length at the chin.
Triangular faces will want to draw attention from the prominent chin, and a balanced medium-thick beardstache will be the best pick.
Modern beard styles are not just a trend; they're a fantastic way for men to enhance their style with a masculine vibe. When choosing one, however, you should keep in mind your face shape and hair type to achieve the very best look. And now that you've learned the essential basics of choosing a beard, it's time to put aside your razor and start growing a new look!
Source: MensHaircuts
SUBSCRIBE
Get our best stories right to your inbox once every week.
Subscribed successfully..
---